The Elements Apps offer end-to-end carpentry software solutions for interior design, joiners, joiners, shop and trade fair builders, planners and architects.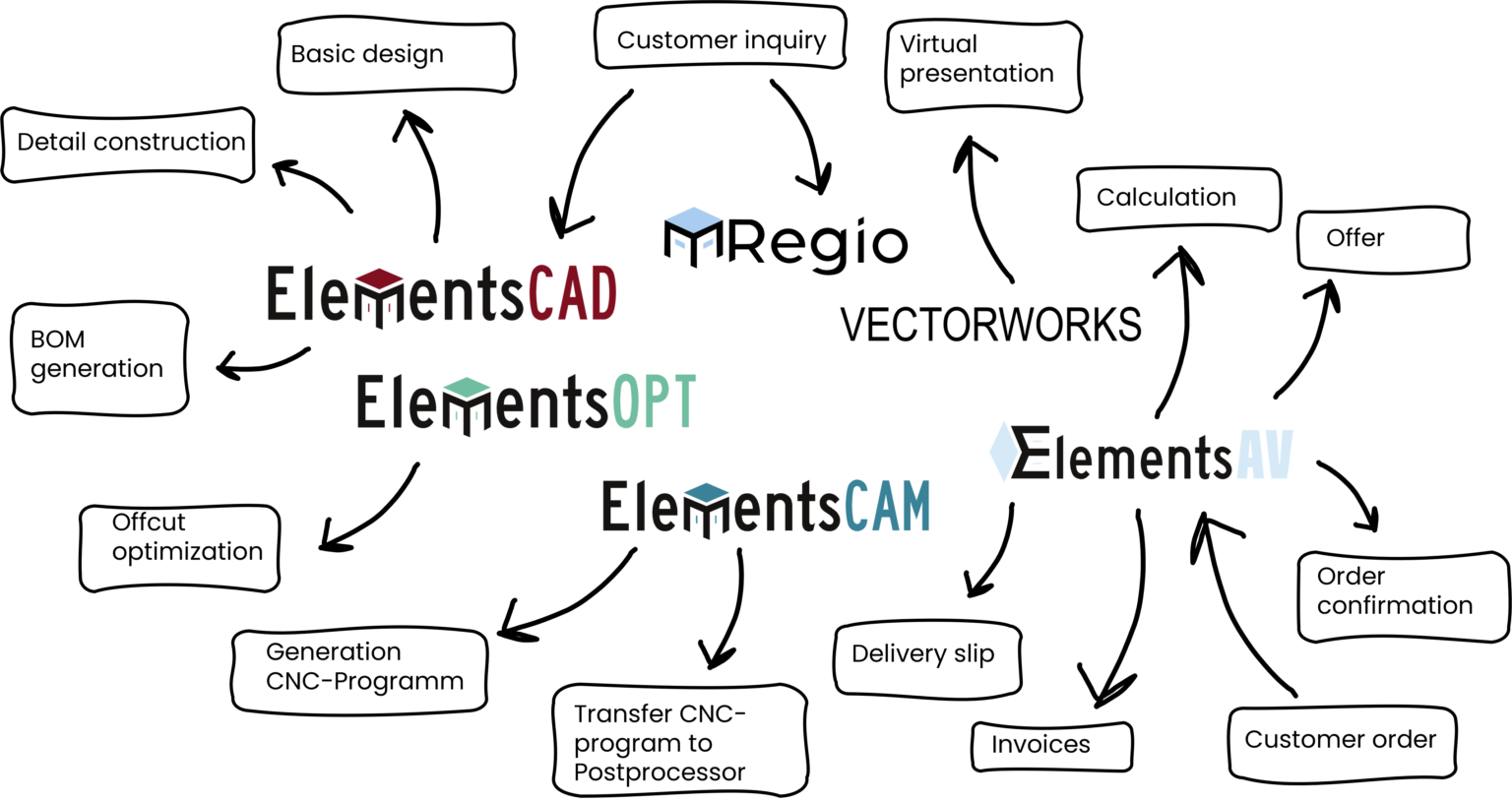 ElementsCAD for Vectorworks is our core product. It guarantees you absolute consistency from design to calculation to production.
Vectorworks is the efficient program for 2D/3D design, which has long since made a name for itself as carpentry software. In combination with the ElementsCAD plug-in, Vectorworks can respond even more specifically to the needs of furniture construction.
In work preparation , BOM data can be created, e.g. with ElementsAV . A CAD-CAM interface enables problem-free interaction with ElementsCAM.

More than 25 years of experience in the field of carpentry software speak for themselves.
ElementsCAD is now available in 8 different languages.
Our products impress with an excellent price-performance ratio.
Parametric furniture
Flexible cut-outs
Fast data entry
Freely definable drilling patterns
Handleless Fronts – Front Profiles
Flexible design options
Detailed drawer definition
Predefined Libraries
CNC output at the touch of a button
Flexible profiling
Beveled edges
Data export to third-party programs
Extensive libraries
Automatic updates
Flexible Front Definitions
Row cabinet function
Windows – Doors – Walls – Stairs
Sloping roofs – flexible panels
Pre-configurations for complex furniture
Flexible constructions
Internal drawers
Flexible texture swapping
Textures from different manufacturers
Easy handling due to classes
Meaningful bills of materials
Pre-configurable templates
Powerful export interfaces
CNC Code
Drawing Tools
Variable Programs
Custom Macros
Top value for money
Vectorworks
Machine-neutral
Pointer Snap
DXF Import
Free CAM reader
Short training
Tree
ElementsCAM is the efficient CNC solution with integrated interface to ElementsCAD and Vectorworks.
Master data can be entered directly into ElementsCAM .
The program can be started directly from Vectorworks .
ElementsCAM is a machine-neutral CNC software for woodworking.
The program impresses with a clear user interface and ease of use.
ElementsCAM is integrated with ElementsCAD & Vectorworks . Drill patterns are assigned directly in CAD.
Changes are instructed and updated directly from the CAD.
The product line ElementsCAM – ElementsAV ElementsOPT provides a consistent carpentry software solution.ElementsCAD With the online furniture planner MRegio, customers can plan their own furniture that is compatible with ElementsCAD.
ElementsOPT is an optimization software for panels in various formats and materials with an intuitive user interface.
Reusable leftovers, grain gradients, bearings or label printing can be done.
The program is compatible with popular spreadsheets (MS Excel, etc.) and furniture design tools (Vectorworks…).
ElementsOPT is the efficient solution for cutting optimization.
Labels
Excel interface
Residual disk management
Calculation
Material Requirements
Graph
Reference data
Sales Order Processing
Correspondence
Interface to ElementsCAD
Pricing
Time
Ordering
Offer – AB
LS – Invoice
Calculation
Production Lists
Time Determination
Open Items
Bom
Material Requirements
Costing
ElementsAV is the efficient solution for work preparation and order processing. The data from the Tischler software can also be used to create hardware lists, surface lists, edge lists, etc.