Absolute consistency from design to calculation to production
Effortlessly design your dream furniture
An essential feature of the furniture module is the integration of any symbols such as fronts, handles, plinths or objects on a worktop.
Continuous worktops and sink cut-outs are generated automatically.
Create your own individual fronts. These are automatically scaled from the furniture module to the correct size.
Textures are also assigned in the ElementsCAD Furniture module in the Info Palette.
Select the desired material from a library of thousands of textures or assign their individual texture.
DAchschrägen? No problem with ElementsCAD
The cabinet, which is often used in the joiner area, is integrated into Vectorworks' popular information palette.
In just one field, the required bevel mass can be entered in just a few seconds.
A menu command automatically generates the corresponding pass bars. It couldn't be easier!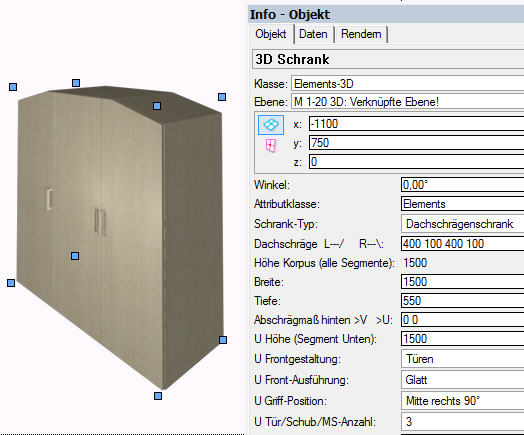 Quickly capture curved objects
With the counter furniture function, ElementsCAD enables you to present and implement your furniture and ideas perfectly. Especially for counter construction, ElementsCAD has a tool that takes into account common shapes very quickly and easily.
Depending on the requirements, either width and stitch dimension or inner and outer radius can be entered.
The counter-furniture object can be dissolved at any time to make manual changes and additions.
Users of the Engine Vectorworks architecture even have the option of unwinding the surfaces of the counter furniture.
Create bills of materials in no time at all
With just a few clicks, a BOM of all active objects can be created in ElementsCAD. It does not matter whether the objects are freely drawn or prefabricated objects.
ElementsCAD calculates the dimensions of all components individually when creating the parts lists, whereby identical components are combined. Stored classes are also transferred to the BOM.
In addition to the tabular Vectorworks BOM, a file is created for import into an order processing program (e.g. ElementsAV). The components can be transferred directly to the elementsOPT optimization program via copy/paste via clipboard. Exporting via a file is not absolutely necessary.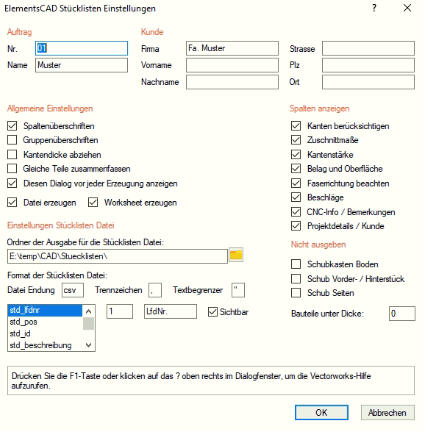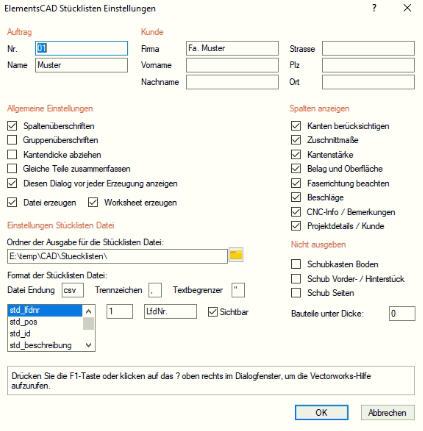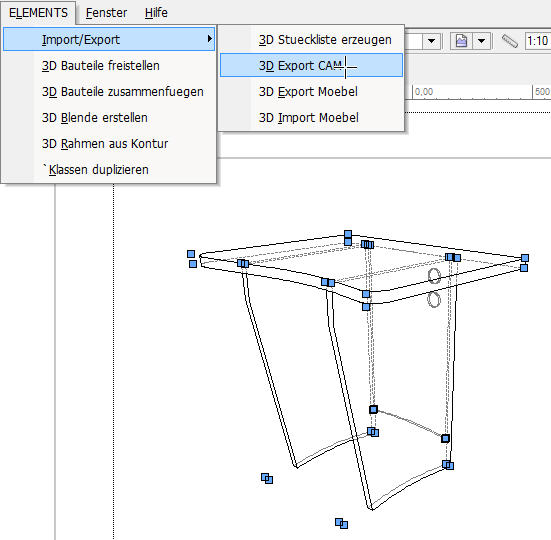 ElementsCAD for Vectorworks includes an export CAD – CAM interface for ElementsCAM. The desired 2D or 3D objects are activated and then exported to ElementsCAM.
In contrast to DXF, any number of components can be transferred to the CAD tool at the same time. In addition, the assignment of various edits is carried out directly via the database in Vectorworks.